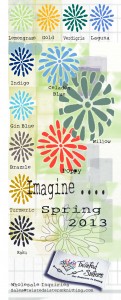 The
New Colors of Spring and Summer 2013 have arrived at Twisted Sisters and will
be
ma
king their debut at TNNA in Long Beach!
Soft and sophisticated are the descriptors for color in the first part of this year.  Alone or combined with other colors from our palette these colors are your wardrobe's Spring Tonic.
We are ecstatic with
our new Celadon Blue and Willow. These two new colors add so much to our 2013 Monochromatic Variegate palette. 
Help yourself to a new box of crayons and draw out your new image.  Come take a walk with us down a new colored highway. 
Our new hand paint combination of Indigo, Topaz, Brazzle and Alba hand paint will cause your needles to vibrate and point to the sea.  Try Verdigris, Laguna, Lemongrass and Willow and poof your alpine meadow has emerged from under the cloak of winter's white.  
Here is a list of all our Spring/Summer delights:
Willow

Verdigris

Lemongrass

Celadon Blue

Indigo

Gin Blue

Laguna

Topaz

Gold

Poppy

Papaya

Rare Earth

Brazzle

Charcoal

Alba